The Art of Freedom... The Freedom of Art Tour
April, 2020 - Now Taking Reservations
Five awe- inspiring days in Philadelphia as we encounter FIVE Creative Geniuses who have and still are changing the world! Be thrilled by a day in the Treehouse, a secret village for young people to thrive in Peace and Beauty, an Oasis in the Park where ALL children play together in harmony in an idyllic setting, the magnificent celebrated Magic Garden, and the very place where Art and Freedom were born in the form of Glass!!!
This Creative Genius Tour is endless with extra-ordinary events! Besides experiencing one of the world's greatest contempory glass collections, you will meet the founder of the museum, Irv Borowsky, who works non-stop to bring Peace into the world! (He helped to rewrite the Bible with the Vatican to eliminate all bigoted expressions and that version is already circulating!)
We will also have the honor of a private tour of The Wharton Esherick House, a treehouse located on a hilltop above Valley Forge! The handsculpted home is breathtaking and the engineering skill of this 20th century art icon is remarkable!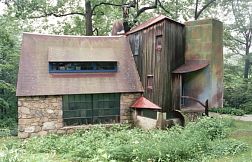 No doubt you have heard of the Philadelphia Renaissance? We will meander through the neighborhood of glass and ceramic mosaics created by Isaiah Zagar! A visit in his garden is a must!!
And, of course, lovely lodgings overlooking the park and one of our dinners is enjoyed aboard an exquisite sailboat, The Mosholu!
April, 2020
Reserve Now for this All-inclusive Tour!
Four nights at the luxurious OMNI Hotel on Independence Park. All tours, limos, breakfasts and dinners.
$1800.00 / per person